05/21/2013

Deputy Travis Turner presented the Distinguished Service Award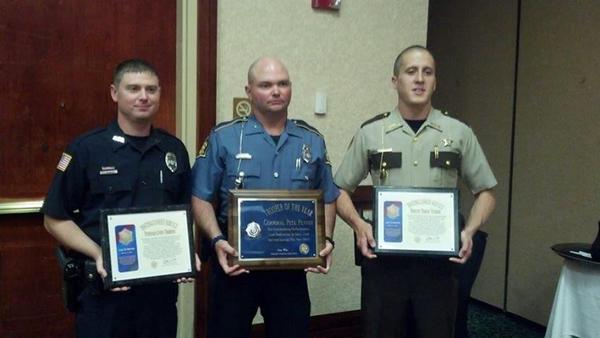 On May 21, 2013 Howard County Sheriff's Deputy Travis Turner was presented with the Distinguished Service Award by the Arkansas State Police. The award was a given to Deputy Travis Turner along with Nashville City Office Justin Thornton for their actions taken in coming to the aid of ASP Trooper Pete Penny on March 23, 2012. Trooper Penny was wounded in a shooting in Hempstead County while arresting a drunken driver. Trooper Penny called for assistance and Officer Thornton and Deputy Turner were the first officers to arrive and provide assistance and take the suspect into custody.

The award states: For exceptional courage and readiness in answering the call of a wounded Arkansas State Trooper and the selfless act of rendering aid during an officer involved shooting incident, placing his own life in peril to suppress the attack and care for the State Trooper.

Everyone at the Howard County Sheriff's Department is proud of the way that Deputy Turner and Officer Justin Thornton responded to assist Trooper Pete Penny on March 23, 2012.
Congratulations to:

Howard County Deputy Travis Turner---------Distinguished Service Award

Nashville Police Officer Justin Thornton ------Distinguished Service Award

Arkansas State Police Trooper Pete Penny---Trooper of the Year Award


Sheriff Butch Morris