08/31/2013

William Shane Smith w/m dob 5/3/1979 of 155 Turner Lane Nashville, AR. arrested on numerous charges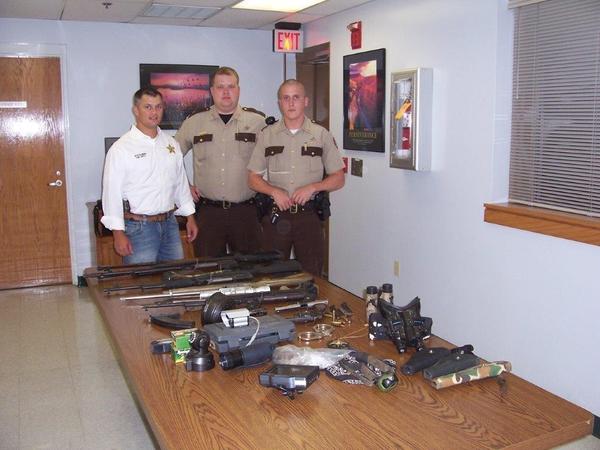 Deputy Travis Turner went to a residence on Turner Lane where Shane Smith lives to follow up on a call he received about a property dispute involving Smith. When Deputy Turner arrived at Smith's house at 7:25 p.m. on 8/31/13, Smith started running away from his house toward a wooded area. Deputy Turner pursued Smith and caught up to him near some bushes. Smith turned his back to Deputy Turner and tossed something on the ground under the bushes. Smith swung at Deputy Turner and ran away from him again. Deputy Turner chased Smith and tackled him to the ground. Smith kept resisting Deputy Turner and got away from him once again. Deputy Turner had to use his taser on Smith several times while Smith continued to fight and try to run toward his house. Deputy Joey Davis arrived at Smith's house at this time and helped Deputy Turner place him under arrest. Brandon Smith and Chris Gates from the Mineral Springs Police Department arrived to assist along with Trooper Mason Glasgow and Nashville Officers Ty Basiliere, Randy Bohn and Chief Deputy Bryan McJunkins.

Smith was being transported to jail and became unresponsive on the way. Smith was taken to the emergency room for medical attention. It is believed that Smith swallowed some meth during the struggle with Deputy Turner.

Deputies found approximately four grams of "ice" on the ground where Smith struggled with Deputy Turner. A loaded handgun was also found where Deputy Turner first made contact with Smith near the bushes.

A search of Smith's house was conducted and a cache of weapons (assault weapons and handguns), ammo, night vision goggles, drug paraphernalia, a law enforcement badge and handcuffs, and surveillance cameras were found.

Smith is facing multiple felony charges including possession of meth, possession of drugs and firearms, possession of firearms by certain persons, along with fleeing, resisting arrest, and assault on a law enforcement officers. Bond for Smith has been set at 200,000 dollars.